Last updated: April 7, 2020
LNG Canada
LNG Canada is building an LNG export terminal in Kitimat B.C. Initially, two LNG processing units (called "trains") with a capacity to produce 6.5 million tonnes per annum (mtpa) of LNG, will be built, with an option to expand to four trains in the future, for a total estimated production capacity of 26 mtpa.
Project Proponent: LNG Canada
Associated Infrastructure: Coastal GasLink
Project Images: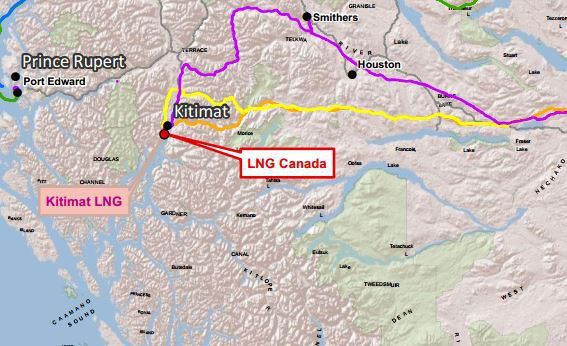 Timeline
Dec. 22, 2015
LNG facility permit issued

Jun. 17, 2015
Environmental Assessment Certificate issued

May. 27, 2016
40 year federal export license granted

Oct. 1, 2018
LNG Canada positive final investment decision announced

Jan. 2020
LNG facility construction started
Primary Project Permits
Permits for natural gas pipelines (and related compressors, meter stations, etc.) or LNG Facilities are required before construction can start on a major project. Applications go through a thorough permitting process, described in our Permitting Process page. Approvals, issued under the Oil and Gas Activities Act (OGAA), contain specific conditions and requirements that the proponent must meet in order to be in compliance with the permit.
All Other Project Permits
There are various types of permits issued by the BC Energy Regulator for major projects, throughout the different phases of design and construction. Permits that have been issued to date for a particular project can be viewed below.