LNG is an acronym for liquefied natural gas. When natural gas is cooled to -162 degrees Celsius it condenses into a liquid form.
Once condensed, LNG will take about 1/600th the volume of natural gas in the gaseous state. Because it takes up so much less space, it can be loaded into specifically designed containers to be transported to where it is needed.

Current Uses of BC LNG
LNG produced in B.C. is currently used in Canada to satisfy energy demands, while meeting greenhouse gas emissions targets and reducing air pollution. It is loaded into LNG containers that can be transported by road or rail to areas not serviced by natural gas pipelines or the electric grid. Currently in B.C.:
LNG transportation by road allows for the creation of a virtual pipeline to Canada's northern communities that are not connected to natural gas pipelines.
LNG is used as fuel for ferries and road transportation.
Energy is stored in the form of LNG for winter use when more natural gas is required for heating. This type of storage, known as peak-shaving, can assist with maximizing usage of the existing natural gas pipelines and ensuring increased demand for natural gas can be met.
LNG is exported to Asia in containers that can be loaded onto rail or trucks. Upon arrival, these containers are transported directly to the end user.
Potential Future Uses of B.C. LNG
In addition to the current uses of LNG produced in B.C., LNG can be loaded into specifically equipped ships and transported overseas where it is re-converted to the gaseous state for use.
It is expected that, in addition to the use on ferries, more ocean going vessels will be transitioning to LNG as a fuel as the international requirements for reducing air pollution from ships become more stringent.

Natural Gas
Natural gas activities have been taking place in B.C. since the early 1950s.
The northeast region of the province is where most natural gas resources can be found - in areas such as the Horn River Basin, the Montney Basin, the Liard Basin and the Cordova Embayment. LNG facilities receive natural gas from these areas of the province via connecting pipelines.
Some smaller, regional LNG facilities operate in close proximity to the natural gas resources to reduce pipeline requirements and to maintain close proximity to the new LNG market into the north.
The BC Energy Regulator is an independent, single-window regulator overseeing these activities, including the LNG facilities.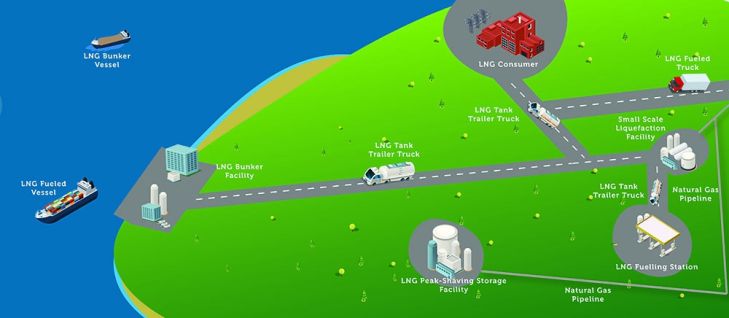 LNG Facilities

LNG facilities have been operating in B.C. since the early 1970s.
LNG facilities start with purifying the natural gas by removing impurities such as water, carbon dioxide and other materials. The next step is to cool the natural gas and separate out the liquids such as propane and butane. The final step is to cool the natural gas to -162 degrees Celsius turning it into LNG, which is stored at near atmospheric pressure.
From the storage area, the LNG can be reheated for use, or transported. LNG is not transported by pipeline – it is transported by truck or rail in specifically built containers or will leave B.C.'s coast on vessels built specifically to carry the cargo. Once it reaches its end destination, the LNG is reheated and converted back into a gaseous state for use.
LNG transportation over Canadian waters is regulated by the Federal Government via Transport Canada.

LNG Export Facilities
An export licence from the Canada Energy Regulator is required to export LNG outside of Canada.
LNG export facilities may be required to undergo an environmental assessment in British Columbia.
The Environmental Assessment Office follows a clearly defined process in the Environmental Assessment Act to conduct theses assessments. This process, including reports and details about consultations, is reported publicly on the Environmental Assessment Office's project site.
Depending on the project, a federal impact assessment may also be required.