Last updated: April 7, 2020
Trans Mountain Expansion Project
The Trans Mountain Expansion Project (TMEP) is a proposal to expand and twin the existing Trans Mountain oil pipeline system between Edmonton, AB and Burnaby, B.C. It would include approximately 980 kilometres of new pipeline, new and modified facilities (such as pump stations, tanks, tanker berths, and transmission lines), and include the reactivation of 193 km of existing pipeline.
The Canadian Energy Regulator (CER) federally regulates this project. However, the BC Energy Regulator is still responsible for reviewing some applications, typically related to access to lands, for the portion of the pipeline within British Columbia.
Project Proponent: Trans Mountain Corporation
Project Images: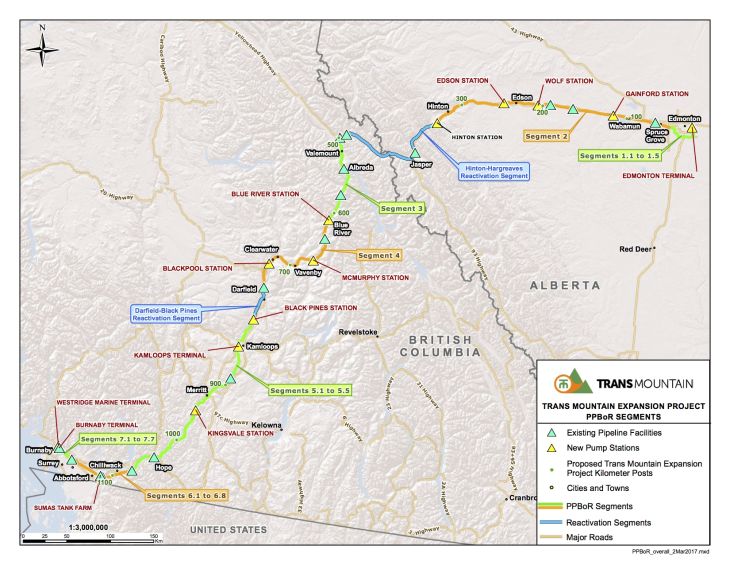 Timeline
Nov. 29, 2016
Original Federal Project Approval issued

Jan. 11, 2017
Province issues Environmental Assessment Certificate

Aug. 20, 2018
Original Federal Project Approval Overturned By Federal Court of Appeal

Sept. 4, 2018
Government of Canada Takes Ownership of Project from Kinder Morgan via Trans Mountain Corporation

Jun. 18, 2019
New Federal Project Approval issued

Aug. 22, 2019
Project construction resumed
Primary Project Permits
Permits for natural gas pipelines (and related compressors, meter stations, etc.) or LNG Facilities are required before construction can start on a major project. Applications go through a thorough permitting process, described in our Permitting Process page. Approvals, issued under the Oil and Gas Activities Act (OGAA), contain specific conditions and requirements that the proponent must meet in order to be in compliance with the permit.
All Other Project Permits
There are various types of permits issued by the BC Energy Regulator for major projects, throughout the different phases of design and construction. Permits that have been issued to date for a particular project can be viewed below.